Local Projects that help women and girls
Graduate and Undergraduate Woman Scholarships
Every year, a scholarship is awarded to a woman working toward an advanced degree at Northeastern State University. She also is given a one-year AAUW membership.  Another scholarship is awarded to a woman who is an undergraduate student at Northeastern State University.  Applications are available from the NSU Scholarship Office and are decided by a committee.
Some past recipients have been active Branch members and officers.
Holiday Tour of Homes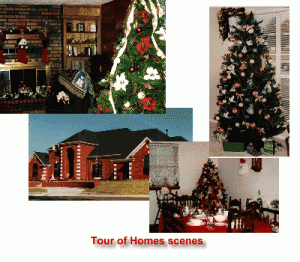 In the past, this annual event raised funds to support the AAUW Educational Foundation and finance local scholarships. A December holiday tradition that the community looked forward to. 
Mentoring Program 
The Tahlequah Branch has sponsored a mentoring program for girls. Mentors are paired with girls coming from diverse school backgrounds to build self esteem, increase career awareness and career interest. A program at the end of the year gives the girls an opportunity to meet other AAUW members. For the several years, members have worked with girls from Watts, Bell, and Maryetta Oklahoma.
Sister-to-Sister Summit 
In the past, the Tahlequah Branch joined AAUW branches across the country to sponsor a Sister-to-Sister Summit. The last conference, held in Keys, brought together eighth-grade girls from three schools to candidly discuss critical issues that teenage girls face today. Some of the topics reviewed were substance abuse, body image, peer pressure and harassment, sexual activity and violence.
Girls State and other programs 
Other local projects that help women and girls are supported throughout the year. The branch usually sponsors one girl's registration to Oklahoma Girl's State.
Woman to Woman Conference
This yearly event has featured community lectures or discussions of important topics.
Member Service Award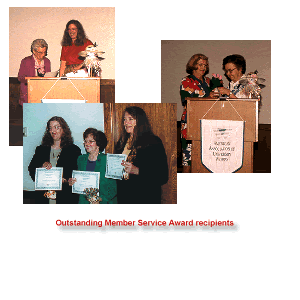 The Outstanding Service Award was established in 1993-94 to honor up to three Tahlequah Branch Members each year. The recipients have provided exemplary service to the branch over a period of at least ten years. They have made tremendous contributions to AAUW's mission — to promote equity for all women and girls, lifelong education, and positive societal change.
A plaque with the individuals recognized hangs in the AAUW room of the NSU Alumni Center. The award has been bestowed on the following individuals:
1993-1994 — Helen Duncan, Mary Jarvis

1994-1995 — Nann Bogan, Wilma Carpenter Cope, LaFerne Smith

1996-1997 — Barbara Monks, Lou Ann Phillips, Irene Wickham

1997-1998 — Nadeen Bateman, Bertie Carter

1998-1999 — Lela Stowers, Jeanna Wing, Linda West

1999-2000 — Sara Brown, Jeanette McQuitty, Jewell Mahaney

2000-2001 — Dr. Janet Bahr

2001-2002 — Dr. Kate Miller

2008-2009 — Norma Stopp, Dr. Jeannette Wilson


2012-2013 — Dr. Amy Aldridge Sanford